I got an email from someone, asking about the Colin McKay cover of Slap, June 1993.
(The scan cut off the top of the mag)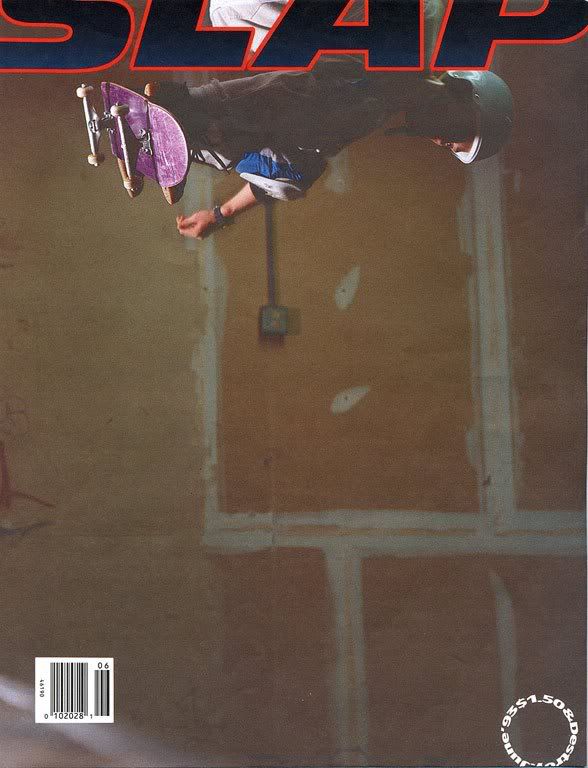 Could you please tell me who is on the cover of Slap June 93. I didn't see any mention in the contents. Backside ollie on vert. Man that's a killer pic of Mic-e Reyes doing that frontside bluntslide in the more East Coast article. Would you happen to have that pic in color? What was Mic-e pulling that day?? Not to many photos/footy of him skating in the 90's.

Take care,
Andy B.
Colin McKay, Bricktown, CT. Missing the black plate- notice there's no real black in that photo. Printer fuck-up. Same contest that Cardiel pulled the padless melon 540. Drove back to NYC that night with Mic-e, Kareem Campbell, Greg Carroll, Jeff Pang, Cardiel and Julian to hang out with Larry Clark. He lived next door to the Ghost Busters garage from the movie. We all went to a rave that night with Chloe Sevigny and Harmony Korine. Cardiel and Pang were breakdancing till the sun came up and the club scene in Kids was based on that night. The next day was the first Back to the Banks contest at the Brooklyn Banks. Mic-e was still a cop at that time but came on the trip with Cards and Julian. We shot the front blunt- maybe his last skate photo. The street fight scene in Kids was also based on this day. Some thug kid stole a skaters board, the skater tried to grab it back, the thug hit him in the head with a skate key, and the entire contest chased the guy down the street and destroyed him. Mic-e broke it up and the thug was bleeding all over the place. Good times.